On the morning of January 9, 2020, entrusted by the China Association for International Education Exchange, Mr. Li Hong, Director of the International Department of Shanghai University of Finance and Economics, and Mr. Zhao Ye, Deputy Director of the Education Service Certification Department of the China Education International Exchange Association, visited our college and officially launched the Finance (Sino-UK Cooperation) Program professional quality certification work. Mr. Xiong Jianwen, Director of the Academic Affairs Office of South China Normal University, the leadership team of the International Business College and some teachers from the Department of International Finance attended the meeting. The kick-off meeting was chaired by Vice Dean Zhuang Huijuan.
Director Xiong Jianwen of the Academic Affairs Office first emphasized the importance of professional certification on behalf of the university, shared the current experience of other professional certification work in the university, and emphasized that professional certification work requires careful, meticulous, multi-faceted thinking. Mr. Xiong Jianwen said that the university's Teaching Affairs office will fully support the quality certification work of Finance program.
Professor Li Hong, the leader of the quality certification working group of Finance program pointed out the purpose and focus of the certification work, especially the implementation of the cooperative agreement, the quality of talent training and horizontal comparison. He hopes that the certified units can explore the promotion space of professional development through certification.
Ms. Zhao Ye, Deputy Director of the Education Service Certification Department of the China Education International Exchange Association. She introduced the purpose of China Education International Exchange Association, the self-discipline, process, authority and internationality of accreditation, interpreted the indicators of professional certification, shared the experience of professional certification projects, and explained the overall framework, arrangement and matters needing attention of this professional certification work.
Dean Wu Jianli introduced the development history of the International Business College, the current state of talent training in various majors, and the future development strategy of the college. She emphasized that the comprehensive development of the major could be promoted through the certification work of financial specialty, so as to play a better exemplary role in the international development of the University.
Vice Dean Chai Shaoming gave a comprehensive introduction to the Finance major in terms of project development history, teaching resource construction and investment, talent training model, and teaching results.
In concluding speech, Professor Li Hong once again emphasized the purpose and characteristics of the quality certification of Sino-foreign cooperation in running schools, and suggested that the college should seriously and scientifically summarize the professional characteristics, highlight the characteristics of Finance program and general majors, and highlight the Finance majors that plays a demonstrative role in driving the internationalization of China Normal University, and highlights the role of Sino-foreign cooperative education programs in the pursuit of higher-level talent training goals.
Finally, the participating experts also discussed the next stage of certification workflow and the work that needs to be prepared.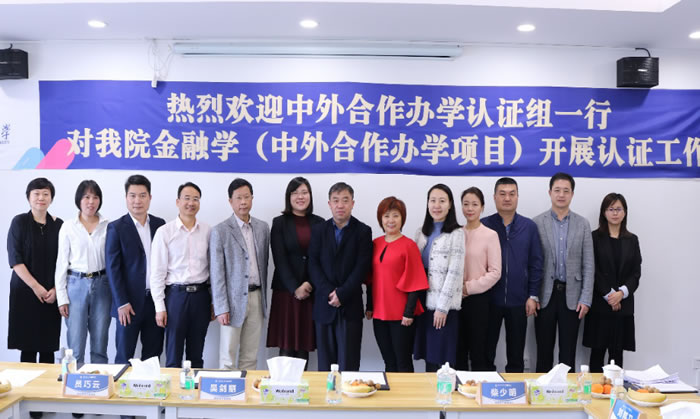 Date: 2020-01-13