In order to further create a professional academic atmosphere and enhance the scientific research capabilities of the colleges and departments, the French Department of the International Business College of South China Normal University organized a seminar on the topic of "Non-speaking in Language Science and Literary Translation" on December 3, 2019 meeting. This seminar day has the honor of inviting Professor Joël Bellassen, Honorary Superintendent of Chinese Language at the French Ministry of National Education, Professor Béatrice Bouvier-Laffite, University of Angers West, France, Professor Fu Rong of Beijing Foreign Studies University and other Chinese and French translators and language scholars attended the discussion. In addition, All the teachers of the French department and the students of grade 2 and 3 participated in the audit.
Dean Wu Jianli and Vice Dean Chai Shaoming attended the opening ceremony of the seminar. Vice Dean Chai Shaoming gave a speech first, expressing the college's support for this seminar. The Director of the French Department, David Bel, expressed his heartfelt thanks to the guests and encouraged everyone to speak freely and promote mutual progress. Subsequently, Li Shuang, a special researcher of the French Department, quoted students' thinking about "Non-speaking", raised questions to everyone present, and laid a thematic pavement for scholars to speak.
In the morning's speeches, Professor Bellassen, a famous sinologist, Mr. Cyril Geffroy of Guangzhou French international school, and Mrs. Mao Rongkun, a postdoctoral of Sun Yat-sen University, respectively analyzed the "speechless" and "untranslatable" phenomena of language from the perspectives of Chinese French Linguistics, French literature and Chinese French translation.
In the round table discussion in the afternoon, senior linguist and Professor Fu Rong of Beijing Foreign Studies University also joined the discussion via video. Researchers have put forward their own opinions based on the two books "Introduction to Multilingual and Multicultural Education Thought" and "Neuro-Language Teaching Method (ANL)", combined with their own teaching and translation experience. Mr. Liu Wei from Guangdong University of Foreign Studies, Associate Professor David Bel, Director of the French Department of our school, and Mr. Qiu Yiqin, a researcher at the Paris Formal Linguistics Laboratory of the University of Paris 7th in France, made speeches respectively. expounded their views on "Non-speaking" and translation inequality from the perspective of sociocultural background and sociolinguistics. As the translator of Professor Claude Germain's neurolinguistic pedagogy, the faculty team of the French Department of the international business college also shared the difficulties and challenges in the translation process and reflected on the translation work.
At the end of the seminar, Professor Béatrice Bouvier-Laffite gave a concluding speech, summarizing the talent and wisdom in the guest's speech, and ended the seminar perfectly. In this seminar, experts and scholars expressed their opinions and explored the "Non-speaking" phenomenon in translation from the perspective of literature and linguistics, enriching the research perspectives in this field, and deepening the understanding of the concept by teachers and students.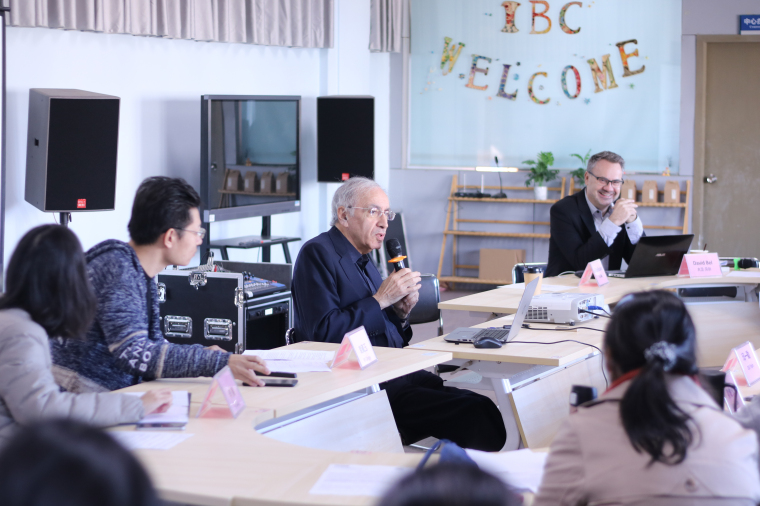 Date: 2019-12-10